About Outstanding Young Farmer
The Outstanding Young Farmer Program began in 1954 as a National Priority program for the US Jaycees. Wisconsin's first winner was named in 1952 and 66 state programs have been held since. Wisconsin has had winners on the national level, 19 of the national program's 66-year history including 10 in the last 20 years.
Today's farmer is an entrepreneur in a complex agribusiness. He or she must understand all aspects of farming, including computers, farm implements, and other equipment used in today's operations. He or she must also comprehend the complexities of nutrients and chemicals to raise the high volume and quality crops demanded by consumers worldwide, while preserving and protecting the environment.
As the farmer's business, has changed, so has the involvement in the community. Today's farmer has become an active citizen, participating in everything from local and state government to civic groups and charitable organizations. It is not only fitting that farmers be honored for their achievements--it is essential.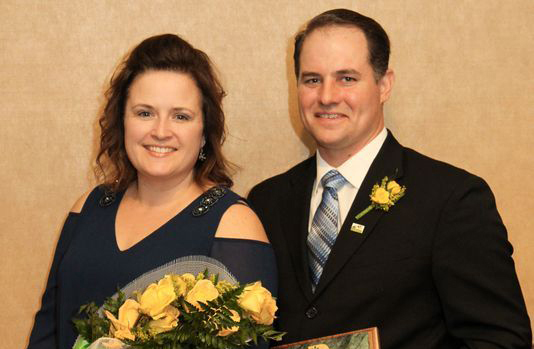 Angie & Mark Ulness, 2017 National Winner